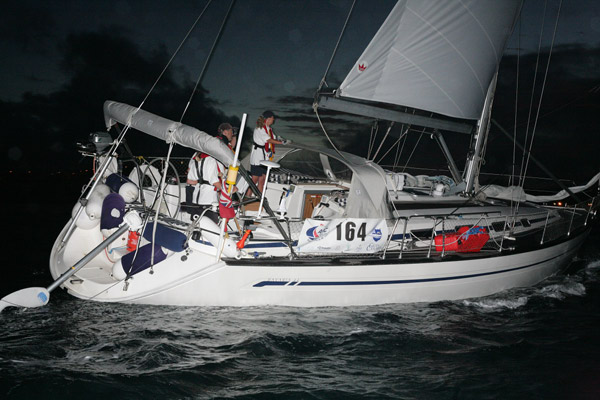 no images were found
This blog post is a compilation of smaller blogs sent from Graptolite during the 2007 ARC (Atlantic Rally for Cruisers). These were originally posted on the Mailasail blog site http://blog.mailasail.com/graptolite and emailed in using a low-bandwidth, and horribly expensive, Iridium sat phone. The coordinates, in a machine-readable form, were read by the Mailasail website and used to create a map track on Google Earth. Connecting the blog coordinates with straight lines sometimes gives the impression of sailing over land. The map tracks on this post correct the most egregious areas but they are still approximations as actual navigation data is too detailed to be used here.
My excellent crew on this Atlantic leg of Graptolite's Around the World voyage were Lori Murdock and Ian and Liz Crabtree. The crew made guest contributions to the blogs from time to time. Very sadly, Lori died in November 2015 after a brave battle with malignant melanoma. The tropical sun can be a dangerous enemy for those of us with northern skin. Fortunately the Crabbers are still going strong.
Las Palmas, Gran Canaria
Tue 13/11/2007 23:52
28:07.68N 015:25.49W
Lori and I got up early and sailed over a hundred miles (from Lanzarote) to Las Palmas in a nice N F5. Lots of dolphins on the way. Arrived at the enormous harbour at Las Palmas in the dark and threaded our way through big ships and oil rigs to the marina and tied up on the reception pontoon just after the ARC office had closed. Bit of an anticlimax but nevertheless we are here……at the starting line of the race.
Las Palmas, Gran Canaria
Fri 16/11/2007 16:27
28:07.68N 015:25.49W
Checked in with the port authorities and was issued with a Mediterranean mooring on Pontoon 10. Checked in to the ARC office and got a pile of papers.
While eating lunch with Lori in the Sailor's Bar Ian and Liz arrived making up the complete crew for the Atlantic crossing. That was Wednesday. We've had a couple of Happy Hours since then and the race safety inspection and also finished installing the wind/water generator.
I gather there are something like a thousand people living in the marina waiting for the off. There are a good number of parties to survive over the next week so there may be some gaps in this blog which are outside of the authors control.
Las Palmas, Gran Canaria
Sun 18/11/2007 20:17
28:07.68N 015:25.49W
The parties and happy hours give almost no time for boaty preparations. I took Lori to the Boat Owner's Cocktail Party last night. The poor thing doesn't get out much. A new black frock bought from El Corte Ingles combined with tatty deck shoes looked at treat. Similar 'smart yachting' clothes for the skipper but in my case it was an old blazer that had been crumpled up in the bottom of a locker for years.
Earlier today we marched in an Olympics-style flag parade to the ARC opening ceremony. Team GB included a bagpipe player.
Following accusations that my missives are a bit lacking in emotional content, such writings have now been delegated to crew. Expect some sooner or later.
Las Palmas, ARC minus 5
Wed 21/11/2007 02:18
28:07.68N 015:25.49W
Tuesday and five days left until the ARC. For those of you hadn't appreciated it, the Atlantic crossing part of this circumnavigation is a race involving another 239 other boats. Most are here now in Las Palmas and very prettily flying signal flags from stem to stern.
The preparations are reaching the final panicky stage and we spent most of the day in El Corte Ingles buying food. In my opinion El Corte Ingles has to be one of the finest food emporiums in the world. I could easily live there and die very large. We still have fruit, veg and booze to buy and a rough calculation of volumes makes it look like we will be sleeping on deck until about half-way.
Had a problem with the new set of sails being to long but managed to find a sail maker called Charlie to chop them down a bit. Visited the yacht club in the early evening and had a swim in the excellent rooftop pool. As we are in Spanish territory I made paella for the crew's dinner. Chicken, chorizo, prawns, squid, mussels etc. Damn good I thought.
The problem looming for tomorrow is what costume to wear for the 'Jungle Safari' fancy dress party. Lori has already made something out of a couple of scraps of chamois leather. This will get her a huge amount of attention from the lecherous crowd of salty dogs here. Even a normal day usually sees one or two other boats luring her onboard for drinks and trying to entice her to jump ship. Somehow I don't see the situation improving.
Las Palmas, ARC minus 3
Thu 22/11/2007 18:50
28:07.68N 015:25.49W
Thursday and three days to go. The boat is beginning to fill up with supplies and the usual waterline has disappeared. Three hundred cans of beer takes a lot of stowing. Fruit, vegetables and meat are all ordered and hopefully will turn up in time for the off. Jerry the Rigger came by yesterday, shinned up the mast, then gave it a clean bill of health.
Yesterday evening's 'Jungle Safari' fancy dress party went well and the weather was very warm. I went as the 'Great White Hunter' in bush hat and fly-fishing waistcoat (as did half of the other people who went). An earlier trip to El Corte Ingles produced a native bearer loincloth for Ian and some bird of paradise feathers for Liz. Lori's scraps of leather mostly stayed in place although her lion's tail was found the pontoon this morning. This is despite it being firmly tied on by the skipper. Lori danced with close to a thousand other party-goers and then returned to the boat, rain-soaked and bedraggled but unpoached.
Las Palmas, ARC minus 2
Sat 24/11/2007 02:17
28:07.68N 015:25.49W
Friday, an interesting day for fruit and veg. The delivery arrived and instantly turned the boat into a fair sized greengrocers. Most of it was eventually stowed in fishing net hammocks. Somebody over did it with the oranges and pineapples on the starboard side and the woodwork gave way at one point.
Thursday night was dinner in an all you can eat place with the crew of 'Minnie the Mooocher' followed by some WOMAD concert. Food was good. The world music was a bit iffy.
The pace is hotting up with food, drink and equipment deliveries to boats on the marina. One delivery nobody wants is the delivery of cockroaches although some boats are rumoured to be overrun. One purchase today was some roach motels just in case.
Las Palmas, ARC minus 1
Sat 24/11/2007 20:18
28:07.68N 015:25.49W
The race starts tomorrow (Sunday 25th) at 13:00. The weather has suddenly turned from nice and sunny to cold and windy and is much like I expect the Solent to be just now. There is too much wind about to put up our newly recut sails. Everything else seems to have come together but we are going to have to bend on sails in a Force 5 on the way to the starting line which could be a bit messy.
ARC Day 1
Sun 25/11/2007 21:37
27:37.43N 015:23.98W at sunset on the first day.
Nicely kitted out in our team uniform of white shirts, blue shorts and silly grins we had a photograph taken by our Spanish neighbours on their boat 'Bet'. 'Bet' also gave us a bottle of wine for a scare and a minor bump a few days before.
Then it all started going horribly wrong as we pulled out. It was blowing fairly hard and the turn took us across the lazy-line of another neighbouring boat and it got wrapped around our rudder. We had to be hauled back in to our berth by the crew of 'Bet'. On the second attempt we got the lazy-line of 'Bet' wrapped around our prop and full marks to Ian for diving in and untangling it. Only Johnny Foreigner would think stretching ropes out in the water is a good yacht-mooring idea.
To the sound of brass bands we finally left the marina and anchored in the main harbour to try to get our sails furled on where we could face into the wind. Job done, we discovered that a clevis pin holding the in-mast furling gear in place had come off and fallen inside the mast. With half an hour to the start we were still anchored with a mainsail on the deck and with a police-launch shouting at us to get a move on.
Making the best of it we motored out of the harbour just in time for the starting gun and crossed the line under a reefed genoa. It could have been slicker but we were far from the last to go. After contemplating a return to the marina for spare parts that probably would need importing, we decided to press on and managed to retrieve the clevis pin with a wire coathanger. A squally shower stopped us having another go with the mainsail. It is now dark and we can see the lights of Gran Canaria in the distance and the lights of other ARC yachts around us. Unfortunately the mainsail is still on the deck. Only another three weeks to go.
OPEX for today runs to two sides: BE insider comment from Ian but we're all still smiling.
17 Degrees West
Mon 26/11/2007 17:29
Survived a night of F7, gusting F8, winds with the only damage being severely bruised avocados in the fruit hammocks. Went into the wind shadow of Gran Canaria at one point to make it easier to fix the furling gear and rehoist the mainsail but there was a bit of motoring needed later to find the wind again.
Just now we are about 60 miles SE of Tenerife and it is nice and sunny. Some flying fish have been seen. Other boats seem scattered all over the place judging from the radio position reporting. The good news is we don't seem to be last.
Choice of restaurant was a bit limited at our location last night so we ate on the boat for a change. Had a spag bol pre-prepared by Lori.
19 Degrees West
Tue 27/11/2007
19:2826:21.2N 019:31.30W
We got the cruising chute out of its bag for the first time since leaving the Solent. An enormous red, white and blue kite always adds a bit of drama to the situation although there is nobody anywhere in sight to appreciate the spectacle. A large pod of striped dolphins swam with us for a while and they were keen to get a good look but they are not all that knowledgeable about downwind sailing kit, as a rule. Other wildlife has been a bit sparse recently. We will have to get the fishing rods out and haul something in to get a close look.
We now have a four-hour watch system at night with two awake and the daytimes are when everyone is up, apart from naps, and we have all meals, run the generator, use the radio and play music. It seems to work but the naps are getting longer.
A soiree on deck with guacamole dip is planned for later. What else do you do with crushed avocados?
22 Degrees West
Thu 29/11/2007 01:34
25:44.96N 022:25.15W at 00:00 UTC Thursday 29th
The cruising chute worked well apart from ripping the seat off the pulpit rail and almost chafing through the spinnaker halyard. Might have to get a bowsprit fitted in St Lucia.
All is well apart from that. We have even worked out how to stop plates from sliding off the table onto the floor but have yet to find a solution for food sliding off the plates onto laps.
The crew keep saying they are going to write something for this blog. Don't hold your breath.
M
23 degrees west – its spitting!!
Thu 29/11/2007 19:41
25:05.30N 023:36.58W at 16:30 UTC Thursday 29th
This is the crew here; now breathe! Just sailed through a shower, most peculiar for this part of the world.
We have now slipped into a routine of watches from 6pm -6am, Liz and me alternating with Martyn & Lori 4 hours each alternating first watch each night. Everyone seems ok with it but the Skipper seemed a bit bleary this am which was cured after a snooze.
After the disappointment with the cruising chute we have taken a view on the situation and decided to get radical and put both sails up instead of the poled out Genoa. There's a big triangular one that we found in the mast that works a treat but means gybing a few times a day. However the other good news of the day is that after setting both sails, we saw another boat with single head sail and left him in our wake.
Skipper has now laundered his shorts to remove last nights spag bol and is declared clean again. He is currently resting in preparation for making tonight's dinner. As for crew, Liz is buried in an almanac and working out were we were three days ago from sextant sightings and reducing the over-ripe banana situation, Lori has been plotting other boat's positions to see where the next party might be and I am writing this hoping not to offend close friends and family, Admiral Insurance, Colleagues and the general public.
Thought for today; "Nobody has ever seen Russell Crowe and Martyn Pickup in the same room at one time …"
Friday
Fri 30/11/2007 23:05
24:01.93N 025:59.83W at 20:35 UTC 30th November 2007
Far from living on ships biscuits and weevils someone must have popped out to the butchers today because tonight we were mostly eating steak and roasted vegetables and very nice it was to. We ate al fresco, surprisingly, with Ian giving his best David Bailey performance yet so stand by for the pics.
Life has settled down into a routine now with all normal life going on except we are surrounded by water at every turn. The take away we ordered yesterday still hasn't arrived yet though. It's surprising how interesting one wave after another can be. If we spot the lights of a passing boat we all get very animated. That said, it doesn't happen that offen.
We have several parties planned en route (ok, I have planned several parties) and the first will be the half way mark, 40 degrees W. Haven't quite sorted my frock yet though as I calculate that it's still about 850 nm away. The scale of this ocean is impressive. I love it.
I'm sure that when we arrive in St Lucia we will have difficulty walking as we have all adjusted to walking around the boat like something out of Monty Python.
It's so easy to settled down into a good book and forget that actually this is a race. Luckily Liz is on the case and I can hear her on deck now mounting our campaign. All in all life here on the move is good and we are a content band of four.
Lori
29 Degrees West
Sun 02/12/2007 05:59
23:54.3N 029:08.6W at 04:20 Sunday 2 December 2007
..and another fine day on the high seas had by all. Tonight we watched the Ipcress File and found ourselves marvelling at the fact that when 'my name is Michael Caine' poured a drink the contents not only made it into the glass but the glass remained on the table. How can this be? What has happened to us? The joys of 'running' for a long period in an Atlantic swell is clearly taking its toll.
We would all like to say thanks to the production of Pickup pickles which has complimented Spanish cheese at lunchtimes and turned an ordinary lunch into a gourmet affair. Cheers Mr P.
We are blessed with good trade winds with a fairly steady F4-6. Every degree W is a cause for celebration at the moment; it's countdown to the half way mark at 40 degrees W.
At supper we were speculating as to how we will cope with our first meal ashore in St Lucia. At the moment one utilises every finger and thumb available to hold down what is on the plate, the plate, the knife, the fork, the drink, all simultaneously. Arms and legs are requisitioned on demand and the result must look quite comic.
04.46 and all is well. The moon is waning, the stars bright and I'll soon be off watch. Another day in paradise.
Lori
1st December – White rabbits
Sun 02/12/2007 05:59
23:54.52N 028:33.00W at 23:30 UTC Saturday 1st
Crew #3 here today (Liz), skipper will wish he kept quiet about us blogging; whose laptop is it anyway?
Now that we have got into the trades proper, we are back to a single poled out foresail bound for Rodney Bay along the rhumb line via the night-time blackness of the Atlantic illuminated by a "beautiful canopy of stars" – thanks to Lori for that observation.
The daily radio report indicates that we are in a bunch of 7 other yachts but still we wait to see more than a glimpse of one of them, such is the size of this 'pond'!!
(Jo) Sunrise through the trade wind cloud formations is a sight to behold. Watching it with a cup of coffee completes the picture. I think you'd like it …
Dinner tonight was on me in more ways than one thanks to the swell, the rest of it went on the plate. It must have been ok as the skipper was asking for seconds before he'd finished plate #1. Lunch had been a ploughmans style with fresh bread etc. and an excellent chutney from Mr Pickup snr. Thanks very much.
More dolphins called by to see how we are doing this pm.
I have suggested that we should have fresh fish tomorrow – watch this space.
31 Degrees West
Mon 03/12/2007 00:30
23:41.50N 031:13.68W at 22:50 UTC Sunday 2 December 2007
One whole week at sea and no mutiny yet. Officers, men and women, all getting along fine but food and drink is still plentiful and downwind sailing easy.
The skipper, for it is I back on blogging duties, caught a big mackerel-like fish today which fed everyone (as a starter). Liz and Ian had already made Italian meatballs for dinner so there seemed little point in fishing out this part of the Atlantic. The first bite had while fishing today broke the hook so who knows what we could have been dragged aboard. Anything that would like to eat us as well is welcome to run off with the tackle.
In the general excitement we almost didn't see a freighter coming at us a few miles to port then a big motor yacht passing us a mile to starboard. As these were the only boats we have seen for days, it all seemed to get very busy at once. It's hard to describe the sensation of an empty horizon in all directions and, although we know that there are other boats out there from radio traffic, the sense of isolation is about as good as it gets this side of space.
Half way in sight
Mon 03/12/2007 21:32
23:07.89N 033:18.79W
Crew here again; Just as we realised that the half way stage could soon be ticked off, some weather came in disrupting the trades that gave us our best day so far yesterday – 159 miles compared to 100 or so at the start, possibly due to the influence of the Azores high in mid Atlantic. Undeterred, we have the first of three bottles of champers in the fridge ready for 1/2 way. The others are one for the finish leaving one for some other milestone. Suggestions on a postcard to Graptolite, Atlantic.
After the hectic events of yesterday, today was 'steady'. No fish, boats, or tsunami – yet. However Lori "allegedly" saw some flying fish shortly after coming up after a nap. The fishing tackle has been modified with a shiny spinner about the size of yesterday's fish; "We may need a bigger boat"
As we have moved time zones by two hours, the watch system is being shifted to match daylight times. You're on the edge of your seats with this blog aren't you!!
Skipper had reservations about Dinner; "Real men don't eat Quiche" but is helping to make it anyway.
Tuesday
Wed 05/12/2007 00:27
What a busy day. Hard to know where to begin. Before I left a friend of mine said that that long distant passages were boring (you know who you are) I have to say I disagree. Firstly yesterday no one believed me when I said I had seen flying fish. Today the Gods were kind and provided me with evidence by way of a dead but beautifully formed specimen found on the foredeck. As a result I later had a rather bizarre conversation with the Skipper which ran something like this. 'Can you get the spring onions out of the fridge? They are next to the flying fish'. Naturally the fish had been preserved as evidence (it's the solicitor in me). Unfortunately the spring onions were not there so now no one believes that the spring onions exist.
Skipper proved his weight in gold today by landing a dorado, all 1.60kgs of it and very gorgeous with yellow markings with blue fins. Supper was cooked by Ian and Liz and cracking it was too. We had a rather impromptu small select 'disco' in the galley during preparation of the fish to 'Go West' by the Petshop Boys. Can't remember why now.
There are always sails to trim, logs to complete, books to read, blogs to write and positions to report. We are planning a special ceremony for when we reach 40 degrees W. I have created a flag (because you can't have too much flagage) and skipper has selected the music. The idea is that we thank the Atlantic for our save delivery to halfway and for the fruits of the sea for which we are truly grateful.
Last night I dreamt I was staying in a 5 star hotel and had an entire nights sleep….
Just returned to the blog having reefed down as we hit a squall. See how busy it is?
Just to reassure you, we are all using life jackets, jack stays and lines, especially of a night. So all is well.
Lori
Funny old day
Thu 06/12/2007 02:21
20:30.58N 037:24.84W
Liz here for tonight's summary of today's proceedings.
Woken up at 8 for our first watch to squally conditions which was fun upstairs but less so for people trying to sleep. Surfing down waves saw a peak of 13kts on log or 10kts on GPS whether you believe a spinning magnet in the hull or Uncle Sam's billion dollar satellite programme, still skipper thought it ok to leave top hatches in his cabin open ("Close whilst at sea") so got a damp sea water wake up call over his bed. Trundled happily with minimal sail through the morning until things settled.
The rest of the day was spent alternating between catching up on sleep and watching the squadrons of flying fish doing acrobatics round and across the waves and not a lot else, but what else do we need?
I dressed for dinner again tonight, or rather wore it as a gust tipped red and white wine off the table, my way; so instant stain removal. Half way through the meal, Skipper leapt away from his food (yes really) as the fishing line on the back of the boat was buzzing but unfortunately the quarry bit through the nylon and ate four hooks!!!
Overnight watch's dress code is now shorts and t-shirt (plus life jacket, clipped on). Temp around 80degF, humidity rising and we're not quite half way there yet!
Halfway celebrations are being planned-watch this space!!
Pancake Day
Thu 06/12/2007 22:22
20:03.5N 039:40.7W
Skipper writes:
More flying fish leapt aboard earlier in an obvious attempt to circumvent immigration laws. We know what they are up to.
Today has been a bit rough with squalls and big seas rolling us around. Food cooking and eating is developing into something of a dangerous sport. Lori tried making apple pancakes for dessert this evening and ended up wearing the batter. Nil point, although she wore it well and the salvaged pancakes qualified as entry to the final. Other food disasters include the discovery that the bilge veggie store had started to ferment into an evil brew and even set the gas detectors off. Fresh food storage is going to need a rethink for the Pacific.
Graptolite continues to keep us safe and is currently whisking us westward under a tiny scrap of headsail. Half-way point of 40 degrees west is close and may be reached by midnight tonight although the partying may have to wait until tomorrow. In reality we are fully in mid-Atlantic already and whatever happens we will end up in the Caribbean. As will the few nearby abandoned and drifting boats we get reports on from time to time.
Half Way!!!!!!!!!!!!!
Fri 07/12/2007 13:18
19:57.9N 040:08.40W
There appear to be more definitions on board, of 'half way' than what constitutes a weapon of mass destruction which raises the point that we are deprived of breaking international news from the rest of the world – our loss. Briefly is it longitude, distance to go versus distance travelled or how many potatoes are left in the bilge? – more of that later. But the consensus is that at 40deg longitude there is no doubt that there is less to do than has been done and the Champers gets it in the morning.
The last 24 hours has been a sample of what we thought the Atlantic might be on a 'nice day'. The sun has shone the wind has been steady (F6) and the rollers have been sweeping us towards Rodney Bay. The size of the swell has increased such that the odd one has doused the cockpit floor from the stern and the saloon from an open ceiling hatch. The waves are the size of a row of houses that the camera doesn't do justice to. Each one lifts us gently up on its front and we slip down its back, generally pointing in the same direction.
Today's food fashion victim was Lori. After corned beef hash she offered to make apple pancakes -"oh all right then if you insist". One freak wave and she was wearing the batter mixture. The remaining pancakes however, were good.
Some of the potatoes in the bilge had been bruised and started to ferment! Enough to set the gas alarm off, Another rethink for storage methods or do we diversify into Poteen production?
Ian
Half Way party
19:30.1N 042:18.90W
Crew reporting; When all watches were finally present after the frankly tiresome night of squalls and lumpy sea, the sun shone once more and the sea settled albeit slightly so that we could enjoy the 1/2 way party in the cockpit. After several large hints to Skipper that the bottle in the fridge labeled "Half Way Party" was indeed for that we finally got things under way. Liz started with a traditional offering to Neptune, not the champagne but a tin of lager. Next to the sound of Land of Hope and Glory came a rousing speech from m'learned colleague Lori, all she was short of was her Lawyer's wig and gown. Mid speech I raised the new journey ensign, the speech reached its peak and there wasn't a dry seat in the boat. Rations were embarrassingly luxurious with Smoked Salmon, a small Foie gras, crackers and fresh bread. And of course, a bottle of Mumm.
The afternoon was filled with chores like battery charging, lead acid and crew (Zzzzz). Dinner was had, then into the routine for night watches when Liz spotted our closest possible ARC contact yet since day one! Approx 4 miles off we can see the stern lights of a yacht. Much excitement especially if we can overtake it.
Apparently a large boat imaginatively named "AAG Big One", more used to competing in Volvo 60 series and crewed by Russians was due to finish today. But for our first day hiccup we'd have given them a run for their money!
Tomorrow will see the distance to go drop into three figures – currently 1100Nm -ish. Alas the bubbly budget doesn't stretch to another party yet, maybe a tin of beer and four straws.
No fish today due to wave conditions but Skipper has prepared the latest tackle to tame the beast below. We are not going to eat this one, just lasso it and ride the bow wave to St Lucia, more later…
Daily Life
Sun 09/12/2007 07:04
18:41.7N 045:26.6W at 05:20 Sunday 9th Dec
After nearly two weeks at sea and some relentless bouncing and rolling these past couple of days, there seems to have been a humorous blog failure aboard so it falls to me, the skipper, to fill the breach.
Maybe tomorrow!
Grapto crew here slow to the laptop. Well I thought I saw a whale today but decided not to labour the story for fear of finding one on the foredeck tomorrow morning. It would be quite difficult to get into the fridge next to the elusive spring onions in any event.
Meal times have become so important and we all fall onto our food with gusto. It's also a case of getting the food into your tummy before it hits the deck. Luckily Ian and Liz came up with a stunning hearty Spanish style stew tonight. It's not quite Lord of the Flies yet but I feel we will need to be reintroduced gradually into polite society for fear of scaring the locals in St Lucia.
Washing a few T shirts in the normal course of events doesn't seem that ambitious, well it didn't to me when I embarked on the project at 0900. I can only describe the process as hand washing inside a washing machine. There was more water on the galley floor than in the bucket and naturally the moment everything was out over the guard rails a squall hit. Ian's comment that the final rinse cycle had arrived was little comfort. T shirts are still festooned across the saloon keeping my reputation for lowering the tone wherever I go intact.
Lori
Monsters of the Deep
Mon 10/12/2007 05:11
18:02.1N 0047:56.9W at 0400 UTC Monday 10th Dec
Call me Ishmael! The latest fishing tackle has been chewed off the end of the line without so much as a by-your-leave, leaving us with no fish supper again. This kit was swaged steel hawser with a hook the size of a kedge anchor. Only the explosive harpoons left in the tackle box now.
We are hoping to rescue a boat in distress tomorrow so we can blag a few free drinks in St Lucia! From radio reports we are getting, it seems like lots of other ARC boats are picking up fresh crew along the way. All the sinking boats always seem to be hundreds of miles from us. We spotted a couple of big tankers in the distance yesterday but otherwise we are still all alone. At least as far as the horizon.
The weather has been mostly kind to us so far for wind strength and direction although sometimes rain squalls prevent quoits being played on the pool deck. I must have a word later with the Purser about the seating arrangements at the Captain's table just in case some riff-raff have recently joined this cruise.
M
St Lucia here we come
11/12/2007
17:19.1N 050:01.2W
Grapto crew calling. There are yachts arriving in St Lucia every day now including our next door neighbour from Las Palmas, Minnie the Moocher, who arrived today at 13.20. My neighbours from Topsham in Aqualuna are due to arrive within the next 24 hours. If anything all the talk of landfall makes you appreciate every moment of the day more. It's great to lie down in the cockpit on watch and look up at the stars, obviously with one eye looking out to sea.
It has been mentioned before but to date we have been blessed with fantastic winds, a classic crossing really, poled out genoa and then away she goes, surfing down the waves. Obviously the 48kt gusts were not on our wish list but hey. Grapto has behaved beautifully and is clearly enjoying her release from the confines of Swanwick. We thought we may have a few problems brewing today but so far nothing to worry about.
No luck fishing today so carpaccio of tuna must wait until tomorrow. Skip's now talking 'bout bigger and better tackle for the Caribbean Sea so we can build on our success to date. Plenty of tuna there I hear.
I'm not trying to elicit sympathy as we do know what the weather is like in the UK but it's very hot and sticky now. Yep, just as I thought, no sympathy.
Looking forward to making those home calls now. The bets on board for arrival are as follows: Ian Friday pm, Liz Saturday am, me Saturday pm and skip's gone for the broad brush approach of anytime after Saturday. We are now taking our night watches as an opportunity to swing things in our favour.
Lori, out.
Finish line fever
Wed 12/12/2007 02:47
16:32.6N 052:32.8W
Crew here with the first and only blog of the day – I think.
It seems strange, but with about 3 whole days sailing and 420 miles yet to go; more than I have sailed in one go and about as much as the others here have done, it feels like the home straight. Current plans are for a finish in daylight on Sat am. So watch that one go totally pear shaped, along with my entry in the sweep [Friday pm]. Talk on board is what the complimentary Rum punch is going to be like, followed by swimming pools, eating horizontally & stationary, parties (Lori).
Although there are for some reason, still three hundred tins of chopped tomatoes left, fresh food is now depleting rapidly although Lori did rustle together an identity confused sponge/fruit cake. The WI would have slated it but I guarantee it will not see the morning. Also a date flapjack which may be, or keep us regular from now on.
Today saw the second milestone of the trip ie. Champers moment. The chart plotter tells us today that there are less than 100 hrs to the finish, so the second bottle of Mumm may get it tomorrow.
The sextant managed to pull down Venus or Neptune this morning. Watch this space in a few days, when the figures have been calculated, to find out where we were at 0800 this morning.
Fishing… Oh dear! He is now talking about a bigger rod, reel, line, bait. Talk from other boats of Carpaccio of Tuna doesn't help – thanks Aqualuna.
And finally; Pedlar the puppy is 12 years young on the 12th of the 12th tomorrow. Currently being spoilt rotten by Liz's Mum & Dad. Happy Birthday Peds!
Nearly there …
Thu 13/12/2007 07:46
15:06.3N 055:39.8W
Crew here again; First, apologies for inaccurate dist to go in last nights blog (420 Nm), was more like 500. However we now at 0400, have 320Nm to go after a best day yet of 165 miles thanks to a steady F7 'breeze' from behind and those Atlantic rollers to surf down. Speaking of which, you would think that we would have realized that every 324th wave came towards us with an address on like "Ian, Snoozing on port side (just put clean shorts on)", "Martyn, sat on transom (just had shower)" or "Saloon, via hatch left open – again (just dried out from last time)" but no. Four old dogs, no new tricks.
The current progress means that a St Lucia arrival would be in the hours of darkness so the plan is to reduce sail on Friday so that we can make our approach in daylight on Saturday morning. "What thoughtful planning and good seamanship given the navigational hazards that may exist" I can hear you cry. No, we just want to look good on the photos!
Still no sighting of ARC boats although from position reports there are two from our group approx 10 miles behind us – too far to see but at least we are not last. There's about 80 boats in total vying for that honour.
Captain's Log Supplemental
Thu 13/12/2007 20:29
14:45.2N 057:21.2W
This sector has been found to contain a mysterious layer of dark-blue di-hydrogen monoxide. A vast wave phenomenon at the hydrosphere-atmosphere interface is propelling Graptolite at warp speed towards the west. Damage Control reports that the shields are being breeched and DHM is invading the living quarters and engineering compartments. "She canna take it Cap'n" "We'll be blown half way across the Atlantic". Fortunately for us there are no Klingons on the starboard bow.
[Captain now confined to his cabin]
Still crazy after all these waves
Fri 14/12/2007 03:37
14:41.9N 058:02.2W
Crew here, reporting worrying tendencies among the ship's company. First the skipper goes off on one in a trekky moment. Does he not realise it's the daleks we are trying to evade!! Liz has been heard to be muttering to herself that its not fair that she didn't even get to put the fish down and when can she at least operate on someone. Perhaps most worrying is that another crew member who must remain nameless has openly admitted to a crush in her younger years on a TV character. Not Magnum PI or The Saint, but none other than Scott the Thunderbird pilot. We wondered why she had log entries of "2000 hrs, 57degrees F.A.B." I, being the only rational one left and on the basis of some impressive surf's down waves have entered us in the next Sydney – Hobart race.
All the ships company have now resorted to shouting at the approaching waves Canute style, to ward them away from the boat. At least one of them didn't listen and tipped us over a bit. Nothing to worry the insurers though…
There were shouts earlier of "Look at those lovely brown boobys" the male contingent assembled on deck but all to be seen were a couple of sea-birds circling the boat, one of which attempted a landing on the spreaders but failed the crew entrance examination.
The next log should be with land in sight for the first time in nearly three weeks…
Falling Apart
Sat 15/12/2007 03:43
13:56.3N 060:22.7W
The genoa came splatting down today because of a broken wire halyard. The spare genoa that has been lurching about my cabin for three weeks turned out to be no use at all as the halyard is now down inside the mast. A bit vexing as it was our best downwind sail in these squally conditions. Now we have the mainsail up and a bright orange storm jib hung on the spinnaker halyard at the front which should get us some sympathy when we limp into Rodney Bay. St Lucia is only about 30 miles away now as the seagull flies but seagulls can travel downwind a bit better than we can just now.
M
Arrived Rodney Bay, St Lucia
Sat 15/12/2007 22:35
14:04.59N 060:56.91W
It's all very exciting making landfall after so long at sea. The lights of St Lucia twinkled in the distance then we were very quickly very close and racing along the northern edge of the island in a strong wind in the dark surrounded by more boats than we had seen since leaving Las Palmas. Everyone had their best tropical whites on as we entered Rodney Bay. We passed between two anchored square-riggers and saw the race committee boat. A photographer rushed out in a RIB taking pictures; there was a very nice pink sunrise and it was all over.
We were temporarily berthed on the fuel dock in the marina for much of the morning and finished off the complimentary rum punch (with ice) and very excellent pancakes made by Joanne from the boat in front of us. By coincidence I had been in email contact for most of the summer with Joanne about crewing on Graptolite through the Caribbean and Pacific. She had sent me a photograph some time ago but I didn't recognise her straight away with her clothes on and not holding a large fish!
All this way and Graptolite has only just reached the start of her circumnavigation route which starts here in St Lucia on 23rd January and ends here sometime in the distant future.
The weather is hot and steamy with heavy rain between sunny spells. After berthing on B dock we sheltered in a bar and had fish and chips and a couple of Piton beers. Might have a nap now.
M
This voyage continues around the world with many adventures and different crew along the way. The next step was the Caribbean and through the Panama Canal and into the Pacific. Then island hopping across the South Pacific to Australia. This was followed by Southeast Asia, the Indian Ocean and into the Red Sea and finally into the Eastern Mediterranean and the Adriatic. Graptolite never did make it home to the Hamble River.