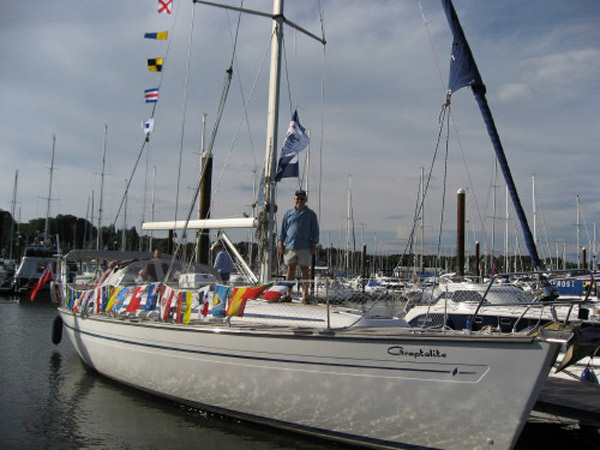 This blog begins with the preparations for a circumnavigation starting from my long-time berth at Swanwick Marina on the Hamble River. This section ends in Las Palmas, Gran Canaria at the start of the 2007 ARC race across the Atlantic. Crew from the Hamble River to Falmouth were an old oil industry friend, Dan Bendig (USA), a new recruit, Ian Jack (former British Army living in Germany), and a very old friend from Blackburn, Julian Swarbrick (UK). Dan and Ian made the traumatic Biscay crossing with me. From mid-Portugal to the Canary Islands my crew was mainly Lori Evans/Murdock (UK) with some help from my son Tom around the Algarve.
Preparing To Go,
Thu 22/02/2007
50 52.81N 001 18.04W
Crew and equipment are shaping up for a departure sometime in August this year.
The plan is to get to the start of the ARC 07 in Las Palmas by the end of November. Then in January 2008 will be joining the World ARC heading west and hopefully all the way around.
Refit Almost Done
Wed 27/06/2007
50:52.81N 1:18.05W
Nearing the end of June and still sat tight in the River Hamble but Graptolite is now taking on something of the appearance of being a real blue-water cruiser. At least under the waterline and under the seat cushions. She is now buzzing with her own electricity and awash with fresh water made from the salty stuff. Her bottom has been buffed and painted to keep the barnacles away and she sports a very nice shiny new propeller.
Most Big Stuff Now Completed
Sat 14/07/2007
50:52.81N 1:18.05W
It's now mid-July and much of the main expenditure has been made. Let me tell you, it has been a painful experience in the wallet area. The SSB radio and satellite phone are now in place although they have yet to be tested at sea. A new spinnaker pole is tied on the deck and a spare set of sails are on order. The electronic charts that are onboard reach as far as Australia and the paper charts as far as the Caribbean. There are still hundreds of things left to do but mostly trivial things like getting unbreakable crockery.
An interesting arrival today was the set of national courtesy flags needed for the World ARC. The flag locker now has flags for over 19 countries. Fortunately many of the islands are colonies or dependencies so some of the flags can be recycled.
This posting is the first one using the satellite phone email. If you are reading this it has obviously worked.
The First Day
Wed 29/08/2007
50:37 09N 002:14.79W
A gentle first day. Sold my disintegrating Land Rover at auction in the morning and by 12:30 we were off in nice weather making 10 knots westward in a northwest wind and an ebb tide. The multinational inaugural crew are Dan Bendig (USA), Ian Jack (Germany) and Julian Swarbrick (UK).
We flew past the Needles and cracked open the first bottle of champagne by 16:00. At sunset, which was very pretty, we sailed into Lulworth Cove and anchored in between a few other yachts. The crew tell me they are now doing something with a chicken and they are going ashore to the pub afterwards.
Lulworth Cove to Dartmouth
Fri 31/08/2007
Early-ish in the morning we left Lulworth Cove and motored close inshore past Durdle Door, Stair Hole and other famous geological bits of the Jurassic Coast. The sails went up and we made a good speed along the east side of Portland Bill. Rounding the tip of Portland Bill, westerly winds stopped us making much progress across Lyme Bay without another helping hand from the engine. As evening fell we slipped into the River Dart where there the very busy Royal Dartmouth Regatta was underway and got probably the last berth on the river at the ridiculously expensive Dart Marina. Ate on the boat and watched a very good firework display over the river from the deck. Strolled into town and joined the crowd for a few more beers.
Lori Evans, who is planning to join Graptolite in Portugal, had been racing at the regatta during the day and is expected to come for a short sail with us tomorrow.
Dartmouth to Falmouth
Sat 01/09/2007
50:09.23N 005:03.91W
Lori's short sail turned into just coffee on the deck as she was going back to work but it was enough to convince the lads that maybe there might be some truth in the skipper's ravings about sailing around the world with a boat load of blondes.
Left Dart Marina and threaded our way through the regatta boats in the river almost getting mown down by dozens of racing yachts out in the bay. A few porpoises played around the boat off Start Point and then we were off to Falmouth via the Eddystone light. During the afternoon the fishing rod came out and a few mackerel were hauled in. (I do catch fish sometimes, John!). Due to a traumatic Catholic upbringing Dan doesn't eat fish but for the rest of us, Ian baked the mackerel with onion and very good it was too.
As night fell we were still sailing along at a good speed. Luminous plankton sparked and flashed in our wake like we were riding a bottle rocket. In the early hours of the morning we motored into Falmouth Harbour and moored up to a buoy for the night. Knackered.
Falmouth
Sun 02/09/2007
Moved onto a pontoon at Falmouth Visitors Marina. Julian left by train from Falmouth Town and the rest of us provision the boat and clean up a bit. Later, out on the town for a traditional British curry.
Leaving Falmouth
Mon 03/09/2007
49:15.98N 005:43.10W
A big breakfast, a few last minute purchases and a tank of diesel and it got too difficult to think of reasons not to go. So we went.
Clearing Lizard Point we acquired about ten bow-riding dolphins. "So long and thanks for all the fish" said one. Now at 22:00 BST we are approaching the shipping lanes off Ushant and the sea is very rolly.
Bay of Biscay
Tue 04/09/2007
47:06.93N 006:54.35W
A good day yesterday with 173 nautical miles of water slooshing by in 24 hours. Today finds us in the northern Bay of Biscay with sunny weather and a northerly breeze.
More dolphins around the boat earlier. Night-time now and it has suddenly got very busy with oil tankers all around us for some reason. Radar is a very useful bit of kit.
Aproaching Spain
Thu 06/09/2007
44:17.38N 006:57.59W
Radar is a rubbish bit of kit as it has now stopped working.
Across the southern Bay of Biscay we have taken a bit of a hammering with F7 winds from the east and big waves trying to get in to the boat. Biscay's reputation is intact! The night sky is very clear which partly makes up for having to keep watch lying down in the spray. If I had one I would be tempted to get the sextant out. We've had to head southeast to keep the bow more into the breaking waves. When daylight comes though, we can have a nice run west along the Spanish coast towards Coruna.
We have a bit of fixing up to do when in port. The battery charging is poor and we have to keep the generator on more than expected. A wardrobe door in the forward cabin also got ripped off its hinges during a particularly bad bounce through a wave. And the radar needs looking at.
La Coruna
Fri 07/09/2007
43:22.06N 008:23.19W
Arrived in La Coruna. A nasty night with F7-F8 winds and big waves. The cruise along the mountainous northern Spanish coast today was nice although it was more surfing than sailing. Arrived in Coruna just as night fell. Lurched into the first marina we came to and tied up on a pontoon hammerhead. Dan's Mexican Spanish came in useful with the marina nightwatchman. Although asking how many pesos it would cost for the berth must have confused.
A meal of gammon ham, pineapple, sweet potatoes and a shower and shave rounded off the day. As I write I hear the crew snoring.
La Coruna
Fri 07/09/2007
43:22.06N 008:23.19W
A day in La Coruna fixing things and looking around the town. Had lunch in the marina restaurant and went looking for supermarkets and chandlers.
Most of the things to fix were the result of Bay of Biscay violence. These are:
Saltwater in the freshwater tanks. (not sure how but we think the anchor locker filled up and water got forced into the tank overflow)
Batteries not charging properly (looks like a loose battery terminal caused by the batteries shifting slightly)
The shackle holding the anchor on to the chain came undone with all the shaking. Nothing lost but a bit scary. Now fixed on with an extra cable tie
Also, the satellite phone email is not working too well. (a blog update has been sent every day but now I'm on a faster connection I see they didn't arrive. Might not be able to get that fixed until Las Palmas.
Camarinas
Sun 09/09/2007
After a bit of a food shopping excursion into downtown Coruna, today was a pleasant cruise in the sunshine westwards to Camarinas along the very wild looking coast of Galicia. The views are spectacular but you really need to like wind generators as there are thousands of them. Ian said he saw sunfish but the sighting is uncorroborated.
Dan is to leave tomorrow by bus to Santiago de Compostela to get a flight to London and thence to Columbus, Ohio. Some people have all the luck.
Ria de Arousa
Sun 09/09/2007
42:34.37N 009:04.2W
Up early to see Dan off by taxi to the airport.
It's been a useless sailing day with thick fog and no wind but nothing stops Graptolite heading south. We crept out of Caramarinas and rounded the lighthouse of Cape Finisterre close in to the rocks to the sound of a fog horn thoughtfully provided for the more electronically challenged boats.
By early evening we arrived at the approach to the Ria de Arousa and dropped the anchor in the harbour of the small fishing village of Corrubedo. The multifunctional Ian dived down to check the anchor and baked a loaf of bread while the skipper flounced about in a new wetsuit.
Spain to Portugal
Tue 11/09/2007
The morning saw thick fog again all along the coast. Left Corrubedo harbour using only the radar for eyes (the radar is now back in favour since it started working again!). Bobbed and weaved through small islands and fishing boats towards Isla de San Martin where miraculously the fog began to clear. The island turned out to be a mountainous pink confection with pine trees and lighthouses. We sailed up to near the main deserted beach and anchored for a swim and lunch.
With little wind we mostly motored south in the sunshine past Vigo and Bayonna leaving Spanish lobster-pot-infested waters and passing into Portuguese-lobster-pot infested waters by early evening. Entered the port of Viana Do Castelo and squeezed into a berth. The initially unpromising-looking town turned out to be a gem with a very nice historic centre. Had a late night meal in the town and read each other bits from Sunday's 'Die Welt' and 'Telegraph'.
Leixoes
Tue 11/09/2007
Left Viana Do Castelo about lunchtime as a new swing footbridge across the mouth of the marina was being tested and we couldn't get out. Did a little bit of sailing in a F5 wind but it fell away and we were back to motoring after a few hours. By early evening we were nearing Porto and turned into the port of Leixoes where we anchored near the yacht club away from the cruise liners. Our only yachty neighbours at anchor were some Germans. Ian conversed with them but I don't think he mentioned the War.
Figueira da Foz
Thu 13/09/2007
40:08.79N 008:51.57W
Left the harbour of Leixoes, pointed Graptolite south in the morning and turned up at the marina at Figueira da Foz before dark. Nothing more to say about it really. Almost no wind and a bit of fog in places. Read books, dozed, ate lunch. Could have been anywhere. Last supper with Ian in the Figueira Yacht Club. All crew signed off now until early October. Skipper to do boat maintenance and learn Portuguese before reaching Brazil.
Daily blogs now on hold until something happens.
Figueira da Foz
Sat 15/09/2007
40:08.79N 008:51.57W
Third day in Figgy. Explored the big fish/fruit/veg market this morning and got some bread and sardines for lunch.
Helped to drag 'Spangle' into the berth next to mine from the reception pontoon using a 50m warp and some prodding with dinghies, 'Spangle' is a heavy-duty ferro-cement ketch that was towed into the marina on Thursday, pooped and with her engine wrecked mid-Bay of Biscay. Showed Bill and Clare, from 'Spangle', where the nearest beer supplies could be bought and then found a WiFi hotspot in the lobby of the Ibis Hotel. Uploaded some photos and tried to upload some video clips but the battery on the laptop ran out. On reflection the video files could be a bit too big anyway and might need a rethink. Be patient, gentle viewers!
Before it starts to seem normal, I will mention that the marina here fairly boils with thousands of huge grey mullet. They are no good to eat and it seems unsporting to fire the spear gun at them.
Still in Figueira da Foz
Fri 28/09/2007
40:08.79N 008:51.57W
'Graptolite' is still on the Rio Mondego over two weeks after arriving, but it has been fun so far.
A highlight was the wild evening at the 'Paintshop' Hostel with Lori and her daughters Hannah and Leah on their brief house-buying visit to Figgy. Ben the owner and his dad Roger did a huge barbecue in the courtyard and poured way too many drinks at the bar later.
"Barnacle" Bill Grooms left the berth next to me early this morning to sail single-handed down to Madeira in 'Spangle'. Bill is one of the saltier dogs of the cruising tribe. An ex-Navy stoker who can fix anything, which is just as well given the engine-less state 'Spangle' arrived in. I've had many sardines and beers out on the town with Bill and his visiting partner Clair over the past couple of weeks. As is the way with this nomadic life, I expect I will meet up with Bill again further south in Madeira or the Canaries. Last night we had Bill's pre-departure drinks with our other neighbours, Jeff Plummer and Carol Preston, onboard their enormous old boat 'Akka' and then had dinner with them later at the Yacht Club.
More Figueira da Foz
Sun 30/09/2007
40:08.79N 008:51.57W
Yesterday, I bought some biggish raw prawns for dinner in the fish market but later got invited around to eat aboard 'Akka' by Jeff and Carol, so we had the prawns as a starter.
Had a phone call earlier from Bill Grooms who had been blown into Cascais Marina. The same strong southerly winds at Figueira delayed the leaving of a very big and expensive new yacht being delivered to the Frankfurt Boat Show. A good decision, I thought, given that it would almost certainly have been blown into 'Graptolite' on departure.
Figueira continues to be a difficult but charming shopping experience. With many of the shops it's impossible to tell what they sell until you are actually inside. Even then it's not always that clear. Hopefully, I've not been browsing through the native's sitting rooms by mistake. Mostly the stuff I'm after is the little bits and pieces for the boat that any old 'Aladdin's Cave' would have. The problem here is the shops that claim to be ship's chandlers have almost no stock. The one on the marina seems to only sell plastic fuel cans (I bought three). There are other shops in town, which mostly sell dusty gardening equipment and power tools that also do a few boaty things. As not much is on display there has to be lots of arm waving. It took me twenty minutes of work the other day to get a bit of string to use as a flag halyard. Yesterday I tried to get some stainless-steel washers. I was directed to an industrial-type shop in the town by a Russell Crowe, Master & Commander, look-alike at the marina chandlers. There I was led downstairs into what must have once been a very big wine cellar. They had shelf after shelf filled with boxes of washers. None of them were the size I needed.
Later I spotted a key-cutting place down a backstreet and tried to persuade the grizzled old proprietor to engrave 'Graptolite' on the ship's bell given to me as a leaving pressie by Mike and Jacqui. Twenty minutes later he was still having a jolly one-sided conversation in Portuguese trying to make sure he had the pronunciation of "graptowleetie" correct and ringing the bell above his head. It turned out that he didn't do engraving anyway but maybe the tiny shop across the street, that looked like it was a seller of religious relics and Indulgences, would do it. Naturally, it was closed for the day.
The Plot Thickens in Figueira da Foz
Tue 02/10/2007
40:08.79N 008:51.57W
Dined at the Forte de Sta. Catarina Tennis Club restaurant last night together with Carol and Jeff and their friends Manuel, Natasha and baby Arturo. Despite this restaurant being famous for seafood we all had steak. Don't know why.
Jeff and Carol are going home to the Norfolk Broads tomorrow. Jeff's tales of racing around the world with Chay Blyth and working as a mud man in the oil industry have been entertaining.
The weather is not too special today with southerly winds and cloud. Made another attempt to get the engraving done on the ships bell. The agitated, pale, monkish-looking man in the shop said he couldn't do it but slipped me the address of a place across town. It turned out to be another tucked-away religious curiosities shop and it was closed, obviously. I have the uneasy feeling that I've stumbled into some kind of ancient conspiracy, probably involving the Knights Templar. I had best say no more about it for now.
Hi!
Sun 07/10/2007
Just to say I'm on the boat and all is well. Thought you might be worrying Dad!
Lori
Navare
Fri 12/10/2007
39:35.03N 009:04.53W
After over a month in Figueira Graptolite today resumed her southbound passage. Had a text from Bill Grooms as we set off who tells me he is now anchored in the crystal clear waters of Porto Santo.
The crew (Lori) turned up over a week ago on the 3rd. It's all been a bit of a blur but what I think we've done is had some meetings with Philipe, Lori's architect, had some drinks and food with Kerry and Ben at the Paintshop Hostel, tried various restaurants and bars and explored up the Rio Mondego by dingy. Much of it was general loafing around. Loafing is not an easy skill to acquire and Lori, only recently departed from the world of work, has needed guidance from the Master.
Just before departure, the ship's bell was finally engraved with the word GRAPTOLITE. The final inquisition in the engravers inner sanctum must have gone well. The wind generator has also now been bolted to the back of the boat but still needs the electrical work doing.
Today was mostly motoring in light winds but we made 43 miles to Navare and parked up in the marina there. Just opposite a fish processing factory. As I write, hundreds of associated seagulls are making a racket and trying to turn the boat into a pile of guano. The usual non-joined-up bureaucracy had us having to leave either ships papers or a passport as deposit for keys to get into the marina. A passport was left which was fine with the marine police, who only wanted ships papers, but naturally it was not fine with the immigration police.
Navare
Sat 13/10/2007
39:35.03N 009:04.53W
The plan was to continue south today but the skipper got a 24-hour bug that had him in his bunk all day shivering his timbers. So, one more night here.
The crew explored Navare.
Ihla da Berlenga
Sun 14/10/2007
39:24.66N 009:30.41W
A short trip today of 26 miles to Ihlas da Berlenga about 5 miles off the coast of Peniche. We found an unattended mooring buoy in the bay of Carreiro da Fortaleza close to the 17th Century fortress of Sao Joao Batista. The dingy was used unsuccessfully to attack the fortress (the waves were a bit big) so we landed at a nearby beach and found a small village although there were only a handful of people there. The island is a big pile of pink granite with a lighthouse on top and is a nature reserve. More exploring tomorrow when light.
Peniche
Mon 15/10/2007
39:24.66N 009:30.41W
In the early hours a Customs launch crept by with a spotlight on us threatening paperwork but it turned out they were just there to do a little night fishing and we were probably on their mooring buoy.
Had a pleasant morning climbing over the Ilas Berlenga, lighthouse, fort, birds etc. Lori swam off the beach where we landed the dinghy, but it was to cold for sensible people!
Back to Grapto for lunch then a short sail to the port of Peniche on the mainland. Dinner of fish stew in a touristique restaurant then back to the boat for DVD's on loan from the Paintshop Hostel.
Graptolite Crew Calling
Mon 15/10/2007
We are in Peniche (think you were here on tour when the Culm Valley boys went large Tom?) and today was wash day. I took a rather traditional approach. Skip decided to don wellies and tread sheets in the heads…Figgy seems a distant memory already and it feels good to be on our way even if we are making short hops. Nazare was an interesting town and within striking distance of Figgy for future trips from the Pink House. The old town has the most wonderful views from the cliff top towards Peniche and Berlenga south to Cabo Mondego in the north. The old town is reached by way of a funicular railway but I was driven there by Sally, wife of Captain M. F. Hadley, the harbour master, lovely couple from Torbay originally. When they sailed into Nazare nine years ago they intended to stay one night.
Ilha da Berlenga was a delight and completely unspoilt. We are staying in Peniche another night so we can explore the town and inland. All is well dad and I haven't been asked to walk the plank, yet. Hope all is well at DHHQ Lester and I that RA is doing well in the bottom's cup Ian. X's H,T & L Lori
Peniche
Wed 17/10/2007
39:21.12N 009:22.60W
Lori suffered from a misguided attempt to run around the whole Peniche peninsular. Later a bus trip to Obidos. A nice fortified town with tourist shops. Walked the walls and turrets. Had lunch. Looked in the shops. Bus back.
Still in Peniche
Thu 18/10/2007
39:21.12N 009:22.60W
Looked around the fortress in Peniche today. Much of it was used for political prisoners during Portugal's dabble with Dictatorship so it was a bit depressing. Intend to head to Cascais near Lisbon tomorrow.
Cascais
Thu 18/10/2007
38:41.76N 009:24.81W
Sailed south from Peniche to Cascais and anchored in the bay.
Cascais
Sat 20/10/2007
38:41.43N 009:25.10W
Moved into the marina at Cascais as it was a bit rough for landing the dinghy. Cascais is a much more upmarket than the Portugal seen so far. Lots of tourists though.
Had a curry for dinner followed by a couple of pints in a British pub. Guilty pleasures! Maybe we will go see the World Cup Final there as well.
Cascais
Sun 21/10/2007
38:41.43N 009:25.10W
We had dinner in a square in the centre of Cascais and watched the Rugby World Cup Final surrounded by South Africans. All Portuguese restaurants proudly feature several big TV screens on the walls. For sporting events on warm evenings, they are even propped up outside on the tables. It makes a night out in Portugal feel a bit like shopping at 'Comet'.
The crew left the boat this morning for a few days shore-leave taking the train back to Figueira. This is supposedly so Lori can meet up with Hannah and organize some work on the Pink House although I suspect the real reason is that the girl is sick of the sight of the skipper!
Cascais
Tue 23/10/2007
38:41.43N 009:25.10W
I fear that Portugal will never become a major economic force in Europe.
Had a day trip on the train to Lisbon in search of fibreglass repair materials and some rigging wire and returned empty-handed. Walked for miles and visited five chandleries. Two were closed, contrary to advertised hours, and the others had nothing in. Except one near the Cais do Sodre station which had a good selection of wire and a swaging machine but the owner and his assistant thought they might only be able to find time to sell it to me the next day as even though the shop had no other customers, one was way too busy winding up a ball of string and the other was supervising.
Cascais
Thu 25/10/2007
38:41.43N 009:25.10W
A day spent sightseeing in Lisbon. It's an interesting old place with lots of vertical travel to castles using giant lifts and trams.
Tom Pickup arrives at Lisbon Airport for a Half-Term sailing the Algarve. The taxi driver from the airport gets us stuck in a traffic jam caused by the Celtic-Benfica match and trousers some extra fare money. According to the street map there was no need to go anywhere near the stadium in the first place but lacking suitable Portuguese swear words made the situation unfixable.
Still in Cascais
Fri 26/10/2007
Ex-Texaco friends reading this will have some vague recollection of the Cascais/Estoril area from a 'business' trip the entire office had here in the early 90's. Back then excess alcohol was obligatory. I suppose like the 60's if you can remember it then you weren't here and I can't remember a thing except for Cyril falling out of a lift. Anybody remember anything else?
Provisioned the boat for a few days travel but after lugging food and drink across town from the 'Jumbo' it was too late to go. Later, Tom and I took the dingy up the coast to see the Boca do Inferno (Mouth of Hell) sea cave. Lori went shopping.
Sines
Sun 28/10/2007
37:57.08N 008:51.95W
Refuelled at Cascais marina and motor-sailed 65 miles to the port of Sines. Arrived in the dark and dropped anchor.
Lagos
Sun 28/10/2007
37:06.65N 008:40.52W
Upped anchor at Sines at first light and motor-sailed south. By late afternoon we rounded the big cliffs and lighthouse at Cape St. Vincent on the most southwesterly part of mainland Europe. Some dolphins escorted us for a while.
Turning eastwards along the Algarve coast the weather warmed up and we arrived at Lagos Marina as night fell after a 90 mile run. Arrangements had been made by email and text to meet two future crew persons that evening in Lagos so we were just in time. Colin Laidlaw, on the marina in his own boat 'Inshala' with his partner Belinda, is to join 'Graptolite' in the Caribbean. Caroline Bonner, in Lagos berthing with friends between boats, is to join in Faro for the trip to Las Palmas. The six of us, Colin, Belinda, Caroline, Lori, Tom and myself had dinner in a nice restaurant booked by Colin. No idea what it was called or where it was. I had some grouper fish which was semi-cremated in the traditional Portuguese way. Rick, they need some help here!
Heard some fireworks going off around midnight but nobody could be bothered to go and look. Ooh! Aah! The crew gets an extra hour sleep time as the clocks go back.
Lagos
Sun 28/10/2007
37:06.65N 008:40.52W
Tom and Dad had a 'Full English' breakfast with Colin and Belinda at 'Lazyjacks'. Lori went to the marina pool to cook some skin and swim. Looks like we are here another night.
Portimao
Tue 30/10/2007
37:06.84N 008:31.30W
Had a short sail from Lagos to anchor in the harbour of Portimao. Has a big, slightly effeminate-looking pink stone castle and beaches.
Tom jumped off the boat and discovered that the water is cold. Took the dingy to the beach where Lori had a swim and declared it warm but the water is still way to chilly for the skipper to get wet.
Faro
Wed 31/10/2007
37:00.50N 007:56.43W
Sailed from Portimaio to Faro in the sunshine. There is a long narrow winding channel across a big swamp to get to the anchorage near Faro. Took the dingy to town and had a few beers and pizza. Returning to Graptolite turned out to be a nightmare as the half-mile or so of open water between anchorage and shore had turned into muddy, stinky marshland with the falling tide. Three of us dragging a dingy through waist-deep mud in the dark is not as much fun as you might think.
Olhao
Wed 31/10/2007
Dingy to shore then taxi to the airport at Faro to send Tom back to school. Caroline called to say she lost a crown and can't sail with us. I didn't even know she was royalty!
Skipper and crew discuss plans for heading south shorthanded. Think maybe Casablanca could be a good stopping off point although lack of courtesy flag and pilot books might be a problem. Attempted to source charts etc in Faro but as usual it was a waste of time.
Tried to find a marina where groceries, fuel and water could be sourced. Navigated about ten miles through the waterways of the Rio Formosa delta to the town of Olhao. Parked beautifully in the marina and was told to bugger off by an official with a clipboard who said it was all private. German neighbours said they told him they had an emergency and had to stay. Being British we left and anchored nearby.
Ate in a restaurant with a Halloween Party in full swing. In Portuguese style it included children running riot and wielding axes.
Olhao
Thu 01/11/2007
37:01.36N 007:50.52W
It turned out that not only is there no room in the marina for visitors but the only source of diesel is a petrol station in the town. Not much use if you need hundreds of litres. There is a commercial dock but the size of the concrete wall and the big rafted-up trawlers make it impossible to get near the pump. Water is also a problem without sneaking into the marina. There are supermarkets but stuff would need ferrying by dingy. Decided to go to Vilamoura tomorrow which is 20 miles back along the coast to the west.
Vilamoura
Sat 03/11/2007
A short trip to Vilamoura to provision the boat. Off to Morocco in the morning. Should take a couple of days.
Gulf of Cadiz
Sun 04/11/2007
34:58.47N 008:44.92W
A very rough night with F6-7 winds from the SE and 2m waves. As usual the forecast did not match the real world which was for F5 from the east. Smashed my last remaining glass cafitiere in the early hours. For those of you paying attention, yes I did have three onboard.
The cockpit was too wet so Lori and skipper hid below looking out at the breaking waves every 20 minutes. Not quite as bad as Biscay but close. Only saw the lights of one or two ships in the distance, plenty of stars and a planet that looked like a bit like something on the horizon.
By sunrise we crossed into Moroccan waters and are now about 100 miles NW of Casablanca and the sea has calmed down and the winds are lighter. Expect to be in Safi for breakfast on Monday.
Safi, Morocco
Mon 05/11/2007
32:18.33N 009:14.91W
The second half of the crossing was very gentle. 388 miles after leaving Portugal we arrived at the port of Safi, Morocco. Officials made off with our chocolate biscuits as we didn't have Marlboro. Public holiday tomorrow here so a problem leaving ships papers and passports for an early departure. Still waiting for Customs and Immigration people showing up.
Essaouira, Morocco
Wed 07/11/2007
31:29.53N 009:40.47W
Customs turned up eventually and waved a grubby form at me from the harbour wall so I had to clamber over two yachts and a rusty freighter to get it. While filling it in (difficult as just in French and Arabic) the Immigration Police arrived on the boat. Filled in his form (almost identical information to that needed by the previous three officials seen). Immigration wanted to take the passports away but could only return them after 10:00AM unless I went with him to the police station. Met the Customs man who was waiting in his car for his form. Customs man decided he would drive me to his office to wait while Immigration man did something else. Drove what seemed like miles, finished Customs paperwork then I was sent to the Police Station where I waited hours for Immigration man turning up do some more forms and passport stamping. After being let go I got lost in the very big and very smelly fish dock. After almost finding my way back to the commercial harbour, Immigration man roared up in his van and I got bundled into the back while some more paperwork was done that he forgotten about the first two times we met. Some dithering about involving requests for baksheesh then I was back to the boat with all paperwork done and still in possession of all documents. It's not easy to keep calm after spending a couple of nights at sea beforehand. All officials were friendly enough but obviously couldn't do admin for toffee.
During the night the boat got a good covering of phosphate dust which is mainly what the port does. In the morning we motored through the very filthy harbour dodging bits of fishing net and plastic sacks. The King of Morocco was apparently turning up to the city the next day so some of the bigger boats were dressed with dusty bunting. Hope he likes it.
There was no wind so we motored all day to Essaouira. Several miles offshore, Lori, wearing a bikini, waved enthusiastically to a bunch of Moroccans in a fishing boat who naturally wanted to come over and sell us fish. The skipper vetoed this on the grounds of safety and was declared to be a 'tourist' rather than a 'traveller'. C'est la vie. And this is off the desert coast of the Maghreb!
In Essaouira we rafted up with a French boat on a small pontoon in the very picturesque fishing harbour. Paperwork was not too bad. I just had to visit two offices. Different uniforms, same information. Oddly, they always need to know how many children you have at home. Explored the streets of the fortified town in the evening and ate a good meal at the 'Chez Sam' restaurant next to the pontoon.
Essaouira, Morocco
Wed 07/11/2007
31:29.53N 009:40.47W
Walked through the fishing harbour and explored the medina of Essaouira which is a big area of narrow streets with shops, stalls and barrows behind the old walls of the legendary city of Mogador. All very colourful with lots of 'sand-people' looking as if they are collecting broken droids in a galaxy far, far away.
Looked for a Morocco courtesy flag for the boat. It can sometimes cause trouble with officials if you don't fly a small version of the country's flag from the starboard spreader. A Moroccan French teacher I got talking to in the medina took me around to loads of shops where we eventually found something that would do. Wouldn't accept anything for his trouble, which was nice.
Lori's son Tom and his partner Heidi turned up in town for the night. They had been coincidentally on a surfing holiday further down the Moroccan coast but there was no surf.
It now looks as though Porto Santo and Madeira will have to be given a miss as time is getting short to get to Las Palmas. Tired of Portuguese food anyway. Thinking of going to Isla Graciosa first, which is a small island north of Lanzarote, as it will be the nearest landfall.
Essaouira, Morocco
Thu 08/11/2007
31:29.53N 009:40.47W
Did some minor repairs around the house and a bit of shopping. Had an excellent tagine of lamb for dinner in a place down a dark alley in the medina called 'Le Patio'. Nice place but seemed to lack a patio. It was a bit more expensive than intended but worth it to cut down the chance of being out of action on the passage to the Canaries.
Atlantic 200 nm NE of Canaries
Fri 09/11/2007
31:05.82N 010:26.76W
Got passports stamped with no hassle. The police were practicing putting handcuffs on each other when 'Mon Capitan' walked in. It wasn't immediately obvious what they were up to. I thought somebody's paperwork wasn't in order.
Used up some local currency in the fish market (a kilo of shrimp and three big red fish with huge eyes) and left Essaouira harbour at midday. Pointed the boat towards Lanzarote and had a beer.
Atlantic 70 nm NE of Canaries
Sat 10/11/2007
29:53.03N 012:24.71W
A fair NE wind. Made 163 nm in last 24hrs. Only saw a few ships passing in the night. Expect to make landfall at Ilas Graciosa to the north of Lanzarote tomorrow and should be in Las Palmas on Monday or Tuesday.
Isla Graciosa
Sun 11/11/2007
29:13.73N 013:30.10W
After a night of listening to the local VHF radio operators putting on silly voices and insulting each other's parentage, we returned to Christendom.
Made landfall at first light and sailed to Ila Graciosa off the mountainous northern coast of Lanzarote. Tied up on the eastern harbour wall of Caleta del Sebo harbour and the skipper had a sleep until lunchtime. The crew being less worn out by the responsibility of command, washed her knickers and rented a bike.
Went to a bar in the village for a beer or two later in the afternoon. This is a really pleasant location with white boxy houses around the harbour and the mountains of Lanzarote across the narrows and volcanic cones behind.
Lanzarote
Mon 12/11/2007
Sailed the length of Lanzarote today to get a bit closer to Gran Canaria. A strange lunar landscape of volcanic cones and pumice. Now in Marina Rubicon on the south coast of Lanzarote. A very posh marina. Poor old grubby Graptolite looks out of place against the big yachts bristling with satellite dishes and Gucci handbags.
Las Palmas, Gran Canaria
Tue 13/11/2007
28:07.68N 015:25.49W
Got up early and sailed over a hundred miles to Las Palmas in a nice N F5. Lots of dolphins on the way. Arrived at the enormous harbour at Las Palmas in the dark and threaded our way through big ships and oil rigs to the marina and tied up on the reception pontoon just after the ARC office had closed. Bit of an anticlimax but nevertheless we are here……at the starting line of the race.